Make a Difference Day
FIRST MEGA Drive
We have been participating in Make a Difference Day (held in late October) since 2011. We have joined forces with FIRST Robotics Team 340 to do a FIRST MEGA Drive, to make the biggest difference possible! The FIRST MEGA Drive involves collecting non-perishable food, children's books, and recycleable electronics to donate to local facilities, as well as monetary donations, in conjunction with an American Red Cross Blood Drive.
The FIRST MEGA Drive was chosen as one of the 10 National Honorees to receive a $10,000 charitable donation from Newman's Own. FIRST Mega Drive has used these funds to help start new FTC and FRC teams through the Rochester Community Robotics Organization (RCR). Although the Grant is no longer available, if you are interested in viewing our application for your own reference, you can view it here: Mega Drive Grant Application.
MegaDrive Results! To date, we have collected 77 units of blood, 1,637 food items, 7,783 kids books and 7,000+ lbs of recyclable electronics!
Help us expand the MegaDrive even further by hosting your own! Here is the how to for the project!
USA Weekend Magazine Photo Shoot!
We started holding the drive at the Greece Ridge Mall and have expanded it to the Dome Arena (2012) and the Main Street Armory (2013) in conjunction with the Rah Cha Cha Ruckus, our offseason competition. The participating teams of Rah Cha Cha Ruckus help donate to this Drive to make it even more successful. We give prizes and awards to the top donating teams, such as AndyMark gift cards and items from Home Depot and Wegmans!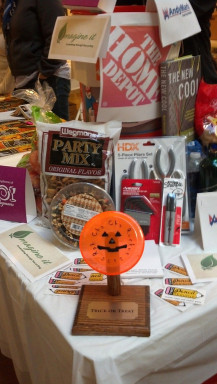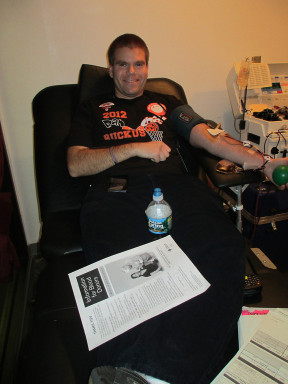 Greece Ridge Mall 2011 Prizes! Blood Drive
In 2013, we were recognized for our efforts by USA Weekend Magazine, winning one of ten National Honoree Awards. We were featured in USA Weekend Magazine and invited to Washington DC for the awards ceremony where Tony Danza helped present us with a $10,000 reward! In the spirit of Gracious Professionalism, and working towards our constant goal of helping other teams, we decided to use the money towards helping to start new teams and sustain current teams. We were able to use the money to support an FRC team and an FTC team! See the Mega Drive Grant Application above if you are interested in applying for a grant.
Brianna and Christa Cynette, Brianna, Tony Danza, Christa, Cheryl, Dee
This past year, we expanded the Drive by doing several events. We participated in a Family Fun Night at Greece Ridge Mall, demonstrating our robot and raising money for Hands Together, a foundation that provides disaster relief for Haiti. In Penfield, we sorted and delivered food to the local food panty, and delivered children's books to four pediatric offices. In Churchville, Team 340 members volunteered at the local soup kitchen.
Family Fun Night
Help us expand the MegaDrive even further by hosting your own! Here is the how to for the project!